LOOK AT JANA'S AWESOME SHOPPING DAY AT ALBERTSONS!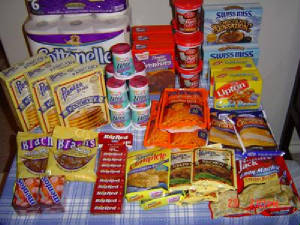 Pic. #2 of Jana's shopping day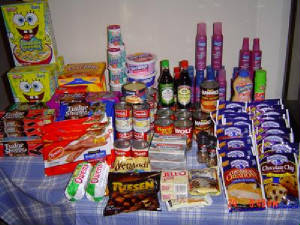 way to go Girl!!
Pic #3! GO JANA! GO JANA! GO JANA! GO JANA! GO !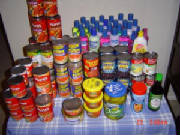 Jana Bone is a member of our Texas Yahoo Group (and the girl is loads of fun too)! These pics are from her Albertsons Triple coupon shopping sprees.
In Austin,TX our local Albertsons stores for a few days tripled coupons up to $.50 and doubled up to $.75! We all did really well, including myself.
Jana did great tho! Pictures 1 & 3 were from 3 seperate trips and the totals of those trips were 180.01 before coupons and 24.31 after coupons. (the 24.31 included 10.50 for a 24 pack of beer...that is not included in the pic) . Picture #2 was from one shopping trip that was 164.28 before coupons and 15.71 after coupons. She now has enough manwich to send off for three rebates (it allows three per household). She also got a TMF (try me free) rebate on the Vlasic pickles for 2.00.
Below is a list is the Qty, item description, price each, coupon value (before the double/triple)that Jana used.

15-Hunts tomato sauce,.25,-.45/2,*see note below*
13-Hunts spaghetti sauce,1.00,-.45/2,*see note below*
4-Hunts diced tomatoes,.50,-.45/2
10-Rotel Tomatoes,.69,-.40/2
3-Hormel Chili,1.25,-.50
8-Bush's black beans,.50,(can't remember)
6-Campbells cream of mushroom and chicken soups,1.00,-.25/3
3-Bush's microwave baked beans,1.29,-.25
6-Rosarita refried beans,.99,-.40/2
1-Hormel canned ham,1.00,-.55
1-Valley Fresh canned chicken,3.59,-.50
1-Vlasic Oval Hamburger Dill Chips,2.00,-.50
3-Duncan Hines brownie mixes,1.69,-.50
1-Kikkoman Soy Sauce 10 oz,1.99,-.55
1-Imperial powdered sugar shaker,.99,-.30
4-Mentos,1.19,-.55
2-Big Red Gum 10 pk.,1.00,-.50
2-Brach's Caramels,1.79,-.50/2
5-Uncle Bens Ready Rice,1.89,-.50
5-Betty Crocker frosting,1.79,-.50
4-Swiss Miss cocoa,1.00,-.35 **some have peel off coupon for Swiss
miss pudding**
2-Lipton Cold brew tea,2.99,-.75/2
2-Bisquick complete mix,1.19,-.50
4-Pioneer gravy mix,.75,-.35
2-Martha white cornbread mix,.75,-.25
3-Hungry jack instant potatoes,1.00,-.35
3-Pioneer Pancake mix,2.19,-.50 (peel off coupon) **Thanks
Rochelle**peel off on baking mix too**
9-Yoplait Ultra Yogurt,.50,-.25
24-Suave Shampoo and Conditioner,.96,-.50
4-Suave hair spray,1.00,-.50
1-Soft scrub,2.50,-.50
1-Cottonelle 12 pk dbl roll ultra bath tissue,6.00,-2.00
1-Cottonelle 6 pk dbl roll ultra bath tissue, 4.69,FREE wyb 12 pk
1-24 pk beer ;-) 10.99 - only item without a coupon!

**note** when she bought the Hunts tomatoes she bought equal amounts of spaghetti sauce and tomato sauce in each trip so that the coupon was being applied to two items - 1.00 and .25. The .45/2 tripled was 1.35, so it was .10 over for each set. On one trip she had enough spaghetti sauce so just got 2 tomato sauces for .50 ;-)
_________________________________________________________
recognize any thing??
This is a pic of Deanna's TGIFridays stuffed freezer!!
Deanna is in our local YahooGroup. Last Friday and Saturday Albertsons doubles coupons up to $1 and tripled coupons up to $.75!
In front of the TGIFridays frozen appetizers, there was a blinkie machine spitting out $1 coupons-those doubled to $2. These were on sale for $2.50 your cost on each box was $.50!
To make this deal a little sweeter, the "stuffed potato skins" had a coupon on the box for a free bottle of Kens Salad Dressing (blue cheese or ranch)!!!
Hope Deanna got a few of those too (looks like she did).
**Thanks for the pic Deanna!
Debby Keen is also in our local YahooGroup.
check out her purchase!
This was her second trip to albertsons
 -after coupon her total was $10.08!! Not bad at all!!
This is what she bought:
                                                                              3-windex           2-sauve hairspray
                                                                              4-shedds country crock
                                                                              2-ragu
                                                                              1-palmolive dish wipe
                                                                              1-frozen waffle
                                                                              3-TGI fridays frozen snacks
                                                                              4-Lipton tea
                                                                              2-dog treats
                                                                              2-cat treats
                                                                              4-eclipse mints
                                                                              4-wrigleys gums
                                                                              1-soft pretzel
                                                                              2-fantastic wipes
                                                                              1-albertsons wipes
                                                                              2-brawny napkins

June 21st was a great shopping day for me. I decided to go to Super S in Dripping Springs. They double coupons up to $1.00 and you can use more than one of the same coupon (pretty sweet)!
Here is what I got:
20- kraft Parmesan Cheese 3oz.
11-Zatarains Creole Seasoning
13-Crunch N Munch
2- Dannon Frusion
13- 1 liter bottles of Evian Water
4- 1.5 Liters of Coke
9- 1.5 liter os Diet Coke
1- 2 Liter of Diet Rite
10- Del MOnte Ketchup
20- Mt. Olive Dill Chips (pickles)
6- DiGiorno Parmesan Cheese (wedges)
4- Pgs. of Lean Ground Beef (a little over a pound in each package)
14- GM Corn Flakes
5- Da Vinchi Pasta
1- Whole Wheat Pasta
10- Tobasco Sauces
**before coupons my total was: $234.78
After coupons I paid (drum-roll please) $44.69
I saved almost $200!!
If I can do this, so can you!
Send in your pics and stories and I will feature them here!
April 19, 2004 check out this purchase!
HOW IT MAKES MY HUSBAND FEEL TO KNOW THAT I CAN SAVE SO MUCH MONEY? PRICELESS!

April 19, 2004:
Great shopping day at Randall's. Got a $20 gc for filling a new prescription.
got my coupons together and bought:
10 boxes of popscicles (used a raincheck when they were $10 for 10)
11 Hormel Diced Ham
7 Reynolds Foil
14 small lemon
5 large lemons
4 tangerines
3 oranges
6 packages of Whiting Filets (fish)
1 box of Glad baggies
1 R&F Spagetti
1 Del Monte Diced Peaches
2 cantalopes (my husbands fav. fruit besides blueberries)
5 containers of strawberries
6- 6" petunia's (they are on sale at Randalls right now for $.99 each!)
Total: $102.53
Remarkable Savings: $18.27
Coupon Savings: $73.14
Total Value Savings 85% $91.41
My Total: $11.12
What I ended up paying; $0.00 (used my $20.00 gc for filling a prescription and I still have $8.88 left on it!)
AND GET THIS: ON THE BACK OF MY RECIEPT THERE ARE 2 COUPONS FOR A FREE 4" POTTED PLANT (VALUE $1.99 LIMIT 1)!!! FROM EMERALD GARDEN!! YIPPEE! I LOVE FREE PLANTS!
Not bad, huh?
-Rochelle