These are the items that I have available to trade. Please check it out this site and bookmark it-it will change often.
EVERYTHING THAT I LIST IS NEW-NOT USED (UNLESS OTHERWISE STATED BY ME AFTER EACH PICTURE). MY HOME IS A CLEAN NON-SMOKING HOME. I DO HAVE A DOG (OUR ONLY PET) SHE IS A POODLE AND THEY DO NOT SHED.
LETS TALK ABOUT CLOTHING:
TO VIEW THE CLOTHING THAT IS AVAILABLE FOR TRADE-PLEASE CLICK ON THE PAGE ABOVE THAT READS "COOL CLOTHING TRADE"
Clothing is available for trades-feel free to view my wishlist and make me an offer!
NO REASONABLE OFFER WILL BE REFUSED!
**IF YOU DO NOT SEE YOUR SIZE, DONT WORRY-I HAVE LOTS OF CLOTHES IN MANY SIZES. JUST CHECK BACK OFTEN-I MAY HAVE YOUR SIZE!
I DO NOT WANT TO TRADE THESE CLOTHES FOR OTHER PIECES OF CLOTHING!!
I do request $3.00 for each piece of clothing to cover the shipping rate.
Unless specified, all of the clothing here is NEW and the tags will still be on it (NWT=new with tags).
I DESPERATELY NEED TO GET RID OF THESE CLOTHES!! I USED TO BE IN THE CLOTHING BUSINESS AND I HAVE LOTS OF LEFTOVER STOCK THAT I WOULD LOVE TO GET RID OF AND GET MY SPACE BACK.
Please make me an offer on them. This is a great opportunity to get some wonderful designer clothing for near to nothinig-for TRADE!!
This page will be updated as things are traded and more things are added.
ALOT HAS BEEN TRADED IN THE LAST 48 HOURS-THIS PAGE IS CONSTANTLY HAVING THE THINGS THAT ARE NO LONGER AVAILABLE TAKEN OFF THIS SITE-MORE THINGS WILL BE ADDED ON FRIDAY! THERE ARE STILL LOTS OF CLOTHING AVAILABLE AND MORE WERE ADDED YESTERDAY-PLEASE PLEASE LOOK AT THE CLOTHING!!!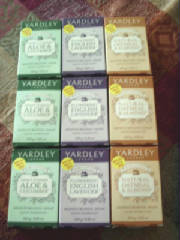 Yardley of London Soap!
I have 3 each of the following scents of Yardley of London soaps:
Aloe & Cucumber
Oatmeal
Lavender
I have the following flavors of Stove Top available:
Chicken-2 available
Pork-1 available
Savory Herb-2 available
2 FL. OZ SALON SELECTIVES "PERFECTLY NORMAL" SHAMPOO
I only have the 2 available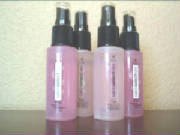 4 SALON SELECTIVES SPRAY
1.5 FL. OZ SIT STILL MED. HOLD FINISHING SPRAY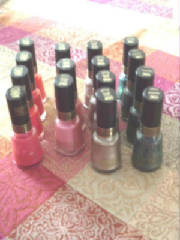 THERE ARE LOTS OF NEW REVLON NAIL POLISHES HERE!
From left to right, the colors are:
Passion Punch Shimmer (#196)- there are 2 left
Cherry Blush (#240)-There are 1 left.
Glow Light (#450)- There are 4 available.
KhakiZING (#360)-There are 4 available.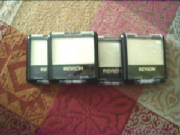 4 REVLON WET/DRY EYESHADOWS
ALL ARE THE COLOR: WHITE WHISPER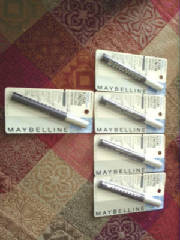 3 NEW MAYBELLINE ILLEGAL LENGTHS MASCARAS (used to have 4 - 1 had been traded). This is what is left:
3 ARE THE COLOR: BLACK ONYX. oNE IS THE COLOR: BROWNISH BLACK (ALL FULL SIZE)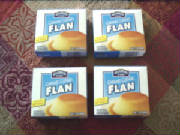 AVAILABLE 4 BOXES OF FLAN!!
8 COVERGIRL CONTINUOUS COLOR SHIMMERS LIPSTICKS
I apologize that the picture is not better to where you can see the actual color. I tried taking several photos of these and this was the best one.
These are in vertical rows.
The first row is the color: Silver Plum (# 146) Its a really pretty light mauvy frosty color-a bit on the purple side. 3 available
The 2nd row is the color: Autumn Rose (#136) Its a bit darker reddish-purple-ish color. I am sure that its really pretty on. There are 3 available.
The 3rd row is: Midnight Mauve (#115) Its a pinkish color-pretty. I have 2 available.
*Please do not email me and request that I open these packages to show you the color. I will not open these packages...thanks for your understanding.
ALMAY MASCARA & EYE MAKEUP REMOVER PADS
ONE COAT THICKENING MASCARA & NON-OILY EYE MAKEUP REMOVER PADS. (FULL SIZE)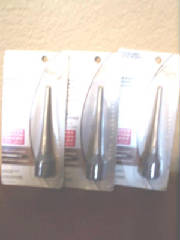 NEW ALMAY 16-HOUR LIQUID EYELINER (there used to be 3 of these-2 have been traded-there is only one left)
THE COLOR IS: "BLUEBELL"-ITS A REAL PRETTY BLUE COLORED LIQUID EYELINER!
POTLUCK SURPRISE PACKAGE!!
(does not include clothing)
Potluck Stockpile Surprise Pack!
$10.00 will include $20.00 worth of merchandise.
Or for $5.00 you can get $10.00 worth of Merchandise.
Shipping for the $5 Surprise pack is $4.00
Shipping for the $10 Surprise Pack is $6.25
IF YOU ARE INTERESTED IN A TRADE, PLEASE FEEL FREE TO EMAIL ME AT: