LETS TALK ABOUT THE CLOTHING:

Clothing is available for trades-feel free to view my wishlist and make me an offer!

NO REASONABLE OFFER WILL BE REFUSED! IF YOU DO NOT SEE YOUR SIZE, DONT WORRY-I HAVE LOTS OF CLOTHES IN MANY SIZES. JUST CHECK BACK OFTEN-I MAY HAVE YOUR SIZE!

I DO NOT WANT TO TRADE THESE CLOTHES FOR OTHER PIECES OF CLOTHING!!

I do request $3.00 per piece of clothing to cover the shipping rate.

Some clothing is very gently used. Most listed here will be NEW and the tags will still be on it (NWT=new with tags).

I DESPERATELY NEED TO GET RID OF THESE CLOTHES!! I USED TO BE IN THE CLOTHING BUSINESS AND I HAVE LOTS OF LEFTOVER STOCK THAT I WOULD LOVE TO GET RID OF AND GET MY SPACE BACK.

Please make me an offer on them. This is a great opportunity to get some wonderful designer clothing for near to nothinig-for TRADE!!

This page will be updated as things are traded and more things are added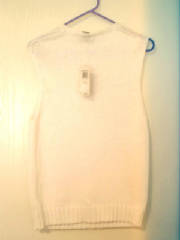 WHITE SLEEVELESS SWEATER-SIZE p/s
CHARTER CLUB PETITE SMALL SWEATER NWT!
$40 ON THE TAG!
MAKE ME AN OFFER!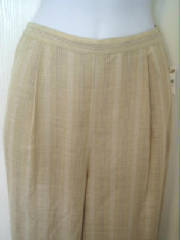 TALBOTS SIZE 10 PANTS- LINEN PANTS!
I TOOK 2 PICS OF THESE PANTS FOR YOU-ONE FROM AFAR AND ONE CLOSER UP SO YOU CAN SEE THE PATTERN. I LOVE THESE!
THEY ARE NWT (NEW W/TAGS) THE TAG READS THAT THEY WERE $68!
MAKE ME A TRADE OFFER ON THEM!
THEY ARE SIZE 10
LINEN BLEND
AND THEY ARE LINED!
WAIST: 26"-34" -THE BACK OF THE WAIST IS ELASTIC.
INSEAM: 31"
** AT THIS RATE-IF THEY ARE TOO LONG-YOU CAN HAVE THEM TAKEN UP!
I REALLY NEED TO GET RID OF MY CLOTHING-MAKE ME AN OFFER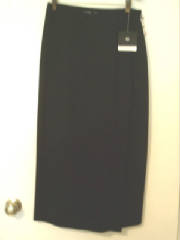 THIS IS A TOO DIE FOR CLASSIC BALCK SKIRT!

ITS MADE BY VALERIE STEVENS-ITS NEW W/ TAGS (NWT)

SIZE 8

PURE WOOL AND LINED-SHOUDL LAST YOU A LONG TIME!

ZIPS UP ON THE RIGHT SIDE.

RETAIL PRICE $94.00!

WAIST : 28"

LENGTH: 33 1/2"

IT HAS A MOCK WRAP-SKIRT LOOK TO IT. IT HAS A LONG 28" SLIT ON THE RIGHT SIDE-SO CLASSY!

GET IT WHILE YOU CAN FOR A TRADE!!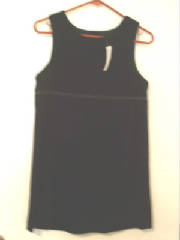 GIRLS BLACK VELVET DRESS
SIZE XL-NWT FROM THE GAP!
GIRLS DRESS FROM GAP KIDS
SIZE XL
RETAIL PRICE $38
ITS BALCK VELVET WITH A BALCK RIBBON ACROSS IT RIGHT UNDER THE CHEST
TOO CUTE!
IT HAS 3 BOTTONS IN THE BACK OF IT.
PERFECT CONDITION!
ACROSS THE CHEST: 30"
LENGTH FROM TOP OF SHOULDER TO BOTTOM OF DRESS: 30"
THINK OF PARTIES & HOLIDAYS-YOUR LITTLE ONE WILL NEED A DRESS LIKE THIS!
GET IT FOR A TRADE-MAKE ME AN OFFER! I DESPERATELY NEED TO GET RID OF THIS!!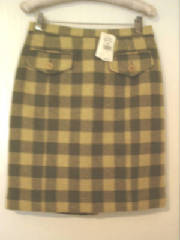 BANANA REPUBLIC skirt size 8-NWT!
100% WOOL!!!
you dont know how badly I wish this would fit me!
its a size 8 wook skirt from banana republic. it is new (NWT) and the price tag says that its $98.00!
*remember-I am NOT asking money for this skirt-just trade.
MAKE ME AN OFFER PLEASE!
Its very pretty with 2 pockets in front (they are still sewn shut-jsut open up the stiching to use them).
This skirt is lined too!!
waist: 28"
length from waist to bottom of skirt: 20 1/2"
the back of the skirt-at the bottom has a 6" slit.
the skirt bottons and zips up the back at the waist.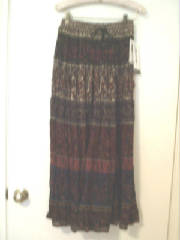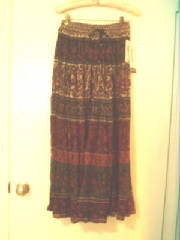 VERY PRETTY MED. BROOM SKIRT
I took 2 photos of this skirt to show you. there is only one skirt like this available..
Its a size med.
nwt (new w/ tags) -it does have an elastic waistband and it has drawstring tie in the front of the waist.
100% cotton-made in india
perfect condition
**this is a very comfortable skirt and pretty too!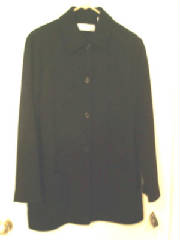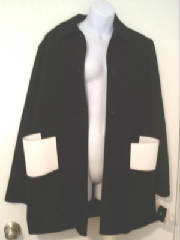 I TOOK 2 PHOTOS OF THIS JACKET FOR YOU. REASON WHY IS BECUASE BLACK IS SO HARD TO PHOTOGRAPH AND I REALLY WANTED TO BE SURE THAT YOU GOT A REAL GOOD LOOK AT THIS JACKET...IT IS BEAUTIFUL!!

ITS A SIZE 10 VALERIE STEVENS JACKET-NEW WITH TAGS (NWT)

IT RETAILED FOR $158.00!

GET IT FROM ME AT A STEAL OF A DEAL-A TRADE!!! I DESPERATELY HAVE TO GET RID OF THESE CLOTHES

IT IS WOOL-BUT NOT HEAVY AT ALL..

IT HAS 3 BOTTONS TO BUTTON UP IN FRONT

IT HAS 2 LARGE POCKETS IN FRONT TOO-I PUT PAPER IN THE POCKETS TO SHOW YOU THE DEPTH OF THEM.

ITS IN PERFECT CONDITION! AND ITS CLASSIC-YOU WILL BE ABLE TO WEAR IT FOR A LONG LONG TIME. EVEYONE NEEDS A BASIC BLACK JACKET!!

HOW OFTEN ARE YOU GOING TO BE ABLE TO GET DESIGNER CLOTHING FOR A STOCKPILE TRADE??? WORK FAST ON THIS ONE!!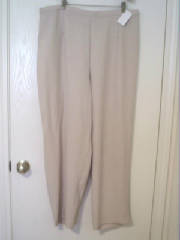 URBAN WORKS WOMAN
SIZE 3X
THESE ARE NEW PANTS FROM WARDS
$29.99 RETAIL PRICE
PERFECT CONDITION
THEY HAVE ELASTIC WAISTBAND IN THE BAND IN THE BACK OF THE WAIST.
WAIST: 39" - 46"
100% POLYESTER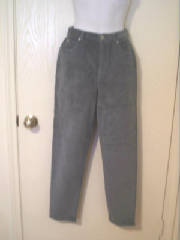 very pretty light green cordouroy pants.
they are actually lighter in color than shown here..
they are new w/ tags
retail price: $69
Brand: Jones New York sport Petite
Size: 2P
These are beautiful and in perfect condition. the cords look so pretty and soft.
Waist : 26"
Inseam: 28"
I desperately need to get rid of these clothes-make me an offer in trade.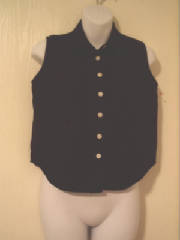 this shirt is new even tho the tags have been removed.
Brand: Eddie Bauer (its a sample shirt)
Size : XS/XP (it looks like a size 2-4)
Its black 100% linen. It has a collar and it buttons down the front, and has a pocket on the left breast-too cute!
Like all of my clothing-it needs to go...make offer.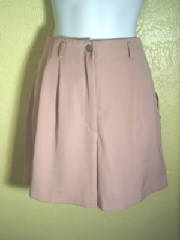 These shorts are brand new (NWT) w/ tags.
Size :2
Brand name: Haley
The color is a really pretty dusty pink. they are 100% Polyester microfiber.
They are made to be lightweight and breathable. Perfect for the outdoors.
You can dress them up or down and they will look wonderful eighter way.
waist: 26"
Inseam: 6"
Very pretty 2 pc. cotton outfit. Perfect for warmer weather.
they are nwt.
size: Large
100% cotton
pants are drawstring waist (W/ elastic)
and the top is nice and comfy.
make offer..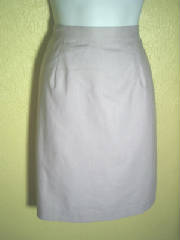 BRAND NEW SKIRT W/ TAGS/
BRAND: ADOLFO STUDIO
SIZE: 10
IT IS A LINEN/COTTON BLENDED LIGHT LAVENDER SKIRT (AND IT IS LINED)
WAIST: 28"-30"
LENGTH FROM TOP OF WAIST TOT HE BOTTOM OF SKIRT: 22"
A PERFECT SKIRT FOR CHURCH, WORK OR BUSINESS.
MAKE OFFER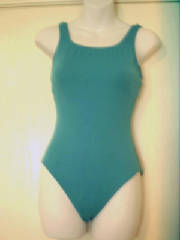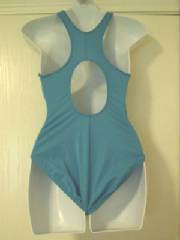 THESE SWIMSUITS ARE BRAND NEW! THEY ARE FROM LLBEAN
THE TAGS WERE TAKEN OFF OF THEM BUT THEY ARE NEW AND HAVE NEVER EVER BEEN WORN AND ARE IN PERFECT CONDITION!
THEY ARE A VERY PRETTY TURQUOISE BLUE.
I HAVE 2 OF THESE SWIMSUITS
ONE IN SIZE 6
ONE IN SIZE 8
MAKE OFFER.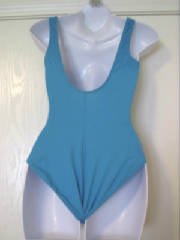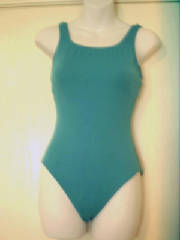 THIS IS A BRAND NEW LLBEAN SWIMSUIT-THE BACK ON THIS ONE IS DIFFERENT THAN THE OTHER 2. IT HAS A SCOOP CUT ON THE BACK.
IT IS NEW-PERFECT CONDITION-NEVER WORN
SIZE : 8
COLOR: TURQUOISE
MAKE OFFER!
*WHAT A GREAT WAY TO SAVE A BUNDLE ON A NEW SWIMSUIT!
THESE ARE A SIZE LARGE HOTPINK AEROBIC/DANCE TIGHT.
THEY ARE NEW-WITH TAGS
BRAND: BODY DESIGN
THEY HAVE NEVER BEEN WORN AND ARE IN PERFECT CONDITION.
MAKE OFFER